THE FRENCH EXPLORERS
The fascinating history of present day Baby Point also reaches back into the French period of exploration. In September 1615, explorer Étienne Brùlé, travelling with a group of Huron/Wendat allies, followed the Carrying Place Trail/Pathway south from Lake Simcoe to Lake Ontario (then Lake Toronto), making Brùlé likely the first white man to reach Lake Ontario. Étienne Brùlé Park, running along the Humber River from the Old Mill to Dundas Street, commemorates his memory and this portion of the Pathway, as do several neighbourhood commemorative plaques. These can be found on Humbercrest Boulevard below Baby Point Road in the parkette and at the entrance to Étienne Brùlé Park.Réne-Robert Cavalier, Sieur de La LaSalle, having walked the Carrying Place Trail/Pathway in his travels, arrived at Teiaiagon in 1678, bartering with the Senecas at Baby Point. Similarly, Joliet also camped on the Point in 1669 on the way north. Father Hennepin of the Recollet Mission also wrote an account of a visit to the Teiaiagon site in December 1678, en route to Niagara.
LE MAGASIN ROYALE
The Douville brothers started trading at the Humber River mouth in 1716. Under the orders of Governor Denonville, Douville built the fort known as Le Magasin Royale in 1720 at Baby Point. The probable location of the fort was where today's tennis courts and Baby Point Clubhouse stand. In exchange for fur pelts, Douville's list of traded goods includes buttons, shirts, ribbons, combs, knives, looking glasses, axes, flour, lard, salt, pepper, prunes, raisins, olive oil, tobacco, vermillion, powder and shot.
It is thought that the fort fell into decline by 1730 because of aggressive trade competition from the British (to the south) and from the coureurs-de-bois, who cut off the French trade from the north-west by going directly to the First Nations villages to trade with them.
The Carrying Place Trail/Pathway was a long portage along the eastern shore of the Humber River.The route terminated when reaching navigable water at some unknown spot on the Holland River near Holland Marsh. It was a route to Lake Simcoe and the fur-rich lands to the north and west. This route was used not only by First Nations, but also by the famous coureur-de-bois. It was integral to the trade for beaver pelts in Canada, feeding the seemingly insatiable European market for fur.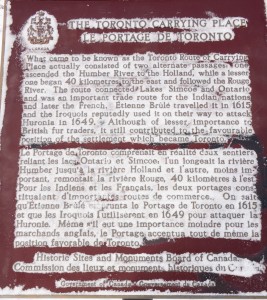 An Historic Sites and Monuments Board of Canada plaque shown here can be found in the small park on the east side of Humbercrest Blvd, just north of Langmuir Crescent. It reads: "What came to be known as the Toronto Route or Carrying Place actually consisted of two alternate passages: one ascended the Humber River to the Holland, while a lesser one began 40 kilometres to the east and followed the Rouge River. The route connected Lakes Simcoe and Ontario and was an important trade route for the Indian nations and later the French. Étienne Brûlé travelled it in 1615 and the Iroquois reputedly used it on their way to attack Huronia in 1649. Although of lesser importance to British fur traders, it still contributed to the favourable position of the settlement which became Toronto."