THE BABY FAMILY: THE ORIGIN OF THE NAME "BABY POINT"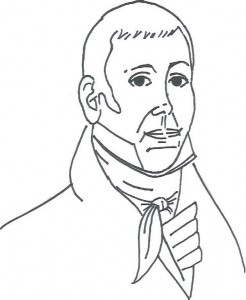 (Illustration by Olivia Loncar-Bartolini)
The Baby family moved from Montreal to Detroit sometime between 1750 and 1760, building wealth through the fur trade and other undertakings, and achieving prominence in the French and Indian communities. After the fall of Quebec in 1759, Jacques Duperon(t) Baby, a third generation French Canadian and already a fur trader with his brothers at Detroit, obtained a license from the British to trade along the north shore in 1762, including the Humber River, extending down into what was then known as Sandwich (Windsor).
His eldest son, James Francis Baby, was educated in the province of Quebec under the supervision of his uncle, François. On his return from a European tour after completing his studies, Baby joined his father's commercial ventures and ultimately amassed considerable personal wealth.
Baby's family had been known for its loyalty to the British crown since the defeat of the French by the British. Lieutenant Governor John Graves Simcoe named him in 1792 to his Executive and Legislative councils. In 1796, when the Americans occupied Detroit on proclamation of Jay's Treaty, Jacques (James) Baby moved to Windsor on the British side of the Detroit River, apparently forfeiting 30,000 acres of land, mills and a successful business. He was civic leader and a Colonel in the militia in the War of 1812, fighting at Moraviatown in a battle in which his friend Tecumseh was killed. Baby himself was wounded and captured. His home, farm and business were seized.
Recognizing his importance in the French community and the extent of his loyal sacrifice, British authorities decided to reward Baby's loyalty with further land grants and appointments. The ruling Tory oligarchy, the so-called Family Compact, convinced Baby to move to York (now Toronto) by appointing him Inspector General of Upper Canada in 1815 (a role he held until his death in 1833). Baby actually lived near the intersection of King and Yonge Streets. In 1820, Baby purchased 114 acres, part of lots 2 and 3 in the Second Concession of west York Township – the site of what came to be known as Baby Point. His purchase of the land apparently was for recreational purposes, the love of the gardens he maintained there, and for fishing in the nearby Humber River.