UPCOMING EVENTS HOSTED BY THE BABY POINT HERITAGE FOUNDATION AND OUR COMMUNITY PARTNERS:
2022 AGM ANNOUNCEMENT: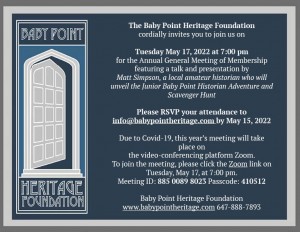 (for better viewing, please click on the image above to enlarge)
Non-members can request an invitation with Zoom links when you RSVP your attendance to http://info@babypointheritage.com
Heritage York Online presents Wading Through Time an exhibition about the Humber River's natural geographies: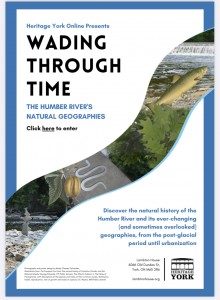 lik to the exhibition below
https://www.canva.com/design/DAEgGWrikKQ/FtTOtpbspSvt8kUGAQrtjw/view?website#4:welcome
JANUARY 2020
Heritage York at Lambton House invites you to the 2020 Howland Lecture on Thursday January 9, 2020, Free Admission and Refreshments, Doors open at 7:00 pm, talk at 7:30 pm.  Guest speaker is Ryerson University professor Carl Benn. See details below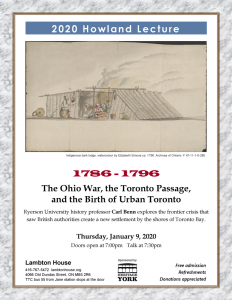 DECEMBER 2019
2019 Annual General Meeting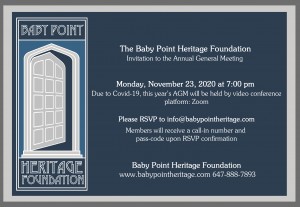 OCTOBER 2019
Annual Fall Portage on the Humber River
Baby Point Heritage Foundation Chair, Mary Anne De Monte Whelan, attends the Smudge Ceremony.  Pictures below courtesy of David Slaughter:
AUGUST 2019
Walk the Six West – FREE EVENT
Walk along the shared path and witness the magic of outdoor theatre as we celebrate the diverse human history of the Humber River. Dates and details below.  Click on the image to enlarge.
Saturday, August 3rd:  Location: Etienne Brule Park, Toronto (by Old Mill Subway) Time: 12pm – 2pm and 2:30 pm – 4:30 pm
Sunday, August 4th:  Location; McMichael Canadian Art Collection, Kleinberg, Time:  1pm – 3pm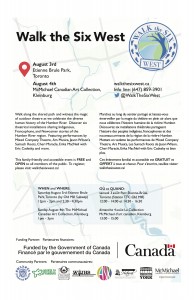 MAY 2019
May 12, 2019: "The May 12

th

 walking tour of "Trees, Trails & Tails: Baby Point" will be led by Jane Clark. 
Jane has been a member of the Toronto & East York Community Preservation Panel since 2013. She is a freelance writer and proofreader, with an interest and extensive volunteer experience in issues around heritage preservation, the environment (particularly the urban forest), animal welfare, and urbanism.
Jane is the Communications Lead for the TEYCPP, and has organized several heritage-related events, including the Toronto Cultural Heritage Landscapes Forum. She has led several Jane's Walks over the last few years and is the Regional Organizer for the annual Jane's Walk event in Durham Region, offering a range of walks and rides in six municipalities. 
"
Below is the Heritage Toronto site
 for this particular tour.
May 28, 2019:  Please join us in celebrating the 20th Anniversary of the Humber as a designated Heritage River, on Tuesday, May 28, 2019, 7:30 pm at the Baby Point Club, 71 Baby Point Road.  RSVP to details below.  (please click on the image to enlarge).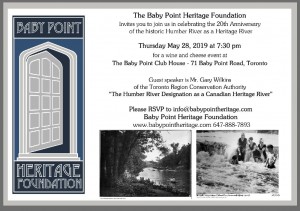 Thank you to everyone who attended our celebration of the Humber River 20th Anniversary as a designated Heritage River, on Tuesday, May 28th at the Baby Point Club.  It was a great success!  We had a record turn out with over 30 people in attendance. A big shout out and thank you to our 2019 AGM guest speaker Gary Wilkins of the Toronto and Region Conservation Authority for his informative and fascinating presentation of the Humber River and Baby Point history.  Below are some images of the event courtesy of photographer Lance Gleich.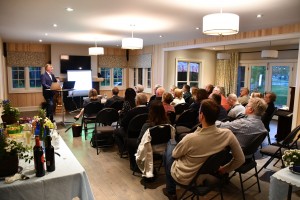 NOVEMBER 2017
Lambton House is hosting two back to back events this month: