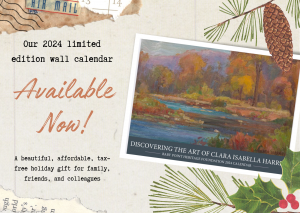 OUR 2024 LIMITED EDITION WALL CALENDAR TITLED DISCOVERING THE ART OF CLARA ISABELLA HARRIS IS NOW AVAILABLE FOR PURCHASE! TO GET YOUR COPIES, PLEASE CLICK ON THE LINK PROVIDED BELOW:                                         https://babypointheritage.com/initiatives/robert-home-smith-collection/
About the Limited Edition 2024 Baby Point Heritage Foundation Wall Calendar:
Dear Friends and Neighbours: This year's calendar titled "Discovering the Art of Clara Isabella Harris" features the life and work of local artist Clara Isabella Harris (1887-1975) a contemporary of the Group of Seven and a long-time resident of the Baby Point community. Featured are 12 of her lovely oil paintings with many local spots you may recognize in our community and surrounding neighbourhoods. Also included are fascinating excerpts from her husband Fred Harris' diary noting their relationship to many others in the Baby Point community as members of the Baby Point Club.
The Baby Point Heritage Foundation wall calendar series began in 2017 with the release of its first issue. Captured so creatively are the beautiful images, anecdotes, and stories that are the connecting dots of every day living and life in Baby Point. They form the foundations of this community creating memories and histories from the principal families of the area to those recently arrived, and thread seamlessly through each other stitching together in a bonded continuity. We hope you enjoy this calendar. As you flip through the pages, please give a moment of reflection and appreciation to the generations of individuals whose cultivation and care have contributed to the preservation of this magnificent place we call home.
The Story Behind the Baby Point Heritage Foundation
Founded in early 2010, the Baby Point Heritage Foundation (BPHF) began as a collaboration of neighbours with common interests and a shared goal: to preserve and protect the built heritage of this exceptionally unique neighbourhood. Concerned by interest in demolishing or radically modifying the exterior of homes and streetscape in Baby Point, and catalysed into action by the proposed demolition of a heritage Arts & Crafts home, the group decided to form the BPHF with the view to educate and inform residents and the public of the heritage of the neighbourhood, which is historically, architecturally and archaeologically significant to the history of the City of Toronto, to the province of Ontario, and to Canada.
The Foundation was formally incorporated in August, 2010 as a non-profit, federally-charted organization.
Our Mission:
The focus of BPHF efforts involve three core interests:
• to educate and inform residents and the public of the heritage of the neighbourhood, which is historically, architecturally and archaeologically significant to the history of both Ontario and Canada
• through education and awareness programs, help foster local interest in maintaining Baby Point's historical atmosphere and architectural integrity
• to make application to the City of Toronto for designation of Baby Point as a Heritage Conservation District (HCD) as laid out in a formal submission
Update on HCD
July 12, 2018 – City of Toronto, Toronto Preservation Board Item:  Proceeding from Study to Plan Phase for the Proposed Baby Point Heritage Conservation District (please click on link below):
http://app.toronto.ca/tmmis/viewAgendaItemHistory.do?item=2018.PB36.12