2022 AGM ANNOUNCEMENT: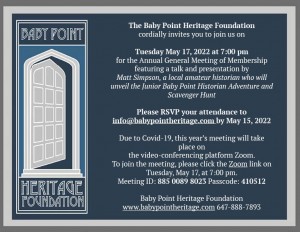 (for better viewing, please click on the image above to enlarge)
Non-members can request an invitation with Zoom links when you RSVP your attendance to http://info@babypointheritage.com
Are you looking for the perfect holiday gift!  Our wildly popular Baby Point Heritage Foundation wall calendar for 2022 is now available for $15.00 (no tax) and can be purchased on the Robert Home Smith Collection product page.
(front and back page view of calendar)
Link to our product page:  http://babypointheritage.com/initiatives/robert-home-smith-collection/
.
The Story Behind the Baby Point Heritage Foundation
Founded in early 2010, the Baby Point Heritage Foundation (BPHF) began as a collaboration of neighbours with common interests and a shared goal: to preserve and protect the built heritage of this exceptionally unique neighbourhood. Concerned by interest in demolishing or radically modifying the exterior of homes and streetscape in Baby Point, and catalysed into action by the proposed demolition of a heritage Arts & Crafts home, the group decided to form the BPHF with the view to educate and inform residents and the public of the heritage of the neighbourhood, which is historically, architecturally and archaeologically significant to the history of the City of Toronto, to the province of Ontario, and to Canada.
The Foundation was formally incorporated in August, 2010 as a non-profit, federally-charted organization.
Our Mission:
The focus of BPHF efforts involve three core interests:
• to educate and inform residents and the public of the heritage of the neighbourhood, which is historically, architecturally and archaeologically significant to the history of both Ontario and Canada
• through education and awareness programs, help foster local interest in maintaining Baby Point's historical atmosphere and architectural integrity
• to make application to the City of Toronto for designation of Baby Point as a Heritage Conservation District (HCD) as laid out in a formal submission
Update on HCD
July 12, 2018 – City of Toronto, Toronto Preservation Board Item:  Proceeding from Study to Plan Phase for the Proposed Baby Point Heritage Conservation District (please click on link below):
http://app.toronto.ca/tmmis/viewAgendaItemHistory.do?item=2018.PB36.12