UPCOMING EVENTS HOSTED BY THE BABY POINT HERITAGE FOUNDATION AND OUR COMMUNITY PARTNERS:
May 2019
May 12, 2019: "The May 12

th

 walking tour of "Trees, Trails & Tails: Baby Point" will be led by Jane Clark. 
Jane has been a member of the Toronto & East York Community Preservation Panel since 2013. She is a freelance writer and proofreader, with an interest and extensive volunteer experience in issues around heritage preservation, the environment (particularly the urban forest), animal welfare, and urbanism.
Jane is the Communications Lead for the TEYCPP, and has organized several heritage-related events, including the Toronto Cultural Heritage Landscapes Forum. She has led several Jane's Walks over the last few years and is the Regional Organizer for the annual Jane's Walk event in Durham Region, offering a range of walks and rides in six municipalities. 
"
Below is the Heritage Toronto site
 for this particular tour.
May 28, 2019:  Please join us in celebrating the 20th Anniversary of the Humber as a designated Heritage River, on Tuesday, May 28, 2019, 7:30 pm at the Baby Point Club, 71 Baby Point Road.  RSVP to details below.  (please click on the image to enlarge)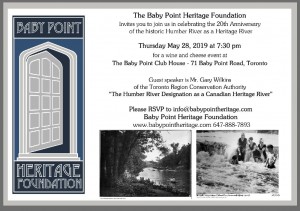 November 2017
Lambton House is hosting two back to back events this month: